The Canopy Lite Glamping Tent is a 3.5mx4.5m canvas, alloy-frameed tent and 3.5mx6m canvas fly with optional timber decking or 'built-in' ground sheet.
The Canopy Lite features an all-in-one roof and walls supported by an external alloy framework. It is slightly smaller than the Canopy Deluxe / Pole models and is designed as a more readily transportable option. Some of the key design features are the minimised guying at the front outdoor space, the solar view mesh windows with internal zipped canvas, protective canvas rub pockets and straps where the fabric connects to the framing and PVC patches at load points.
Manufactured onsite at our purpose built premises in Tauranga, New Zealand.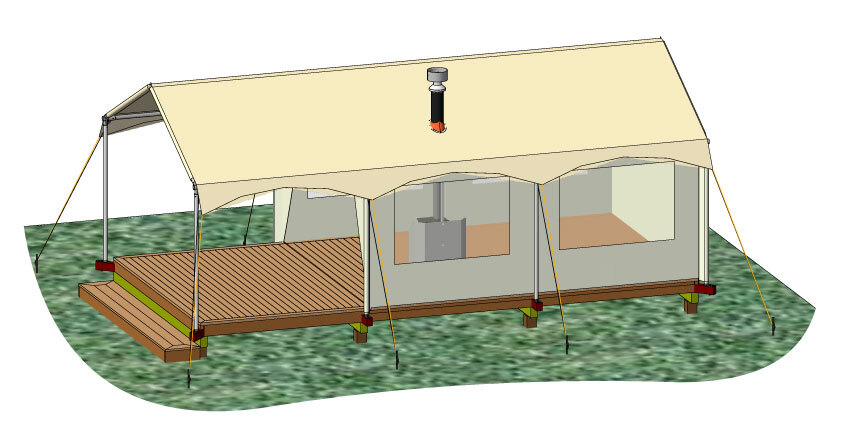 For full brochure and pricing guide - download from Resources.
"We took over a property and had a few issues to deal with. Baytex went above and beyond to make sure our new Glamping site was perfect. Customer service at its best. We can't wait to be up and running for the summer season. Thanks Baytex." Wendy Hurunui Jack's Hokitika
Specifications
Size

Tent: 3.5m x 4.5m
Deck 3.5m x 6.5m

Materials

Tent: Canvas DX12 Dynaproofed 50^/sqm (14.9 oz) Fire Retardant
Windows: PVC Mesh Weather Hex Outdoor
Fly: Ferrari Stamoid 6002-10387 Off-White PVC Polyster PVC Beige - Fire Retardant

FR Certificates

Glamping tent fabrics have been tested to AS 1530: Pt 2 & R 3 by an independent testing laboratory and comply with the requirements of NZ Building Code C3 AS1 as a Flame Retardant Fabric

Warranty

Manufacturers: 2 years on workmanship
Canvas Fabric: 5 years manufacturers pro rata warranty
Fly: 5 years manufacturers pro rata warranty

Maintenance

Washing of canvas and PVC annually
Reproofing of canvas biannually

Supplied

Fabric: Main Tent (Canvas), Fly (PVC)
Frame. NZ Made quick-fit together 6061 T6 Alloy parts (hire insustry quality) HD eiectrogalvanised steel connectors
Guy Straps
Tent Fasteners

Optional Extras

Fireplace with Heat Shield and Weather Flashings
Drop-down clear or canvas Verandah Wind-Break Screens